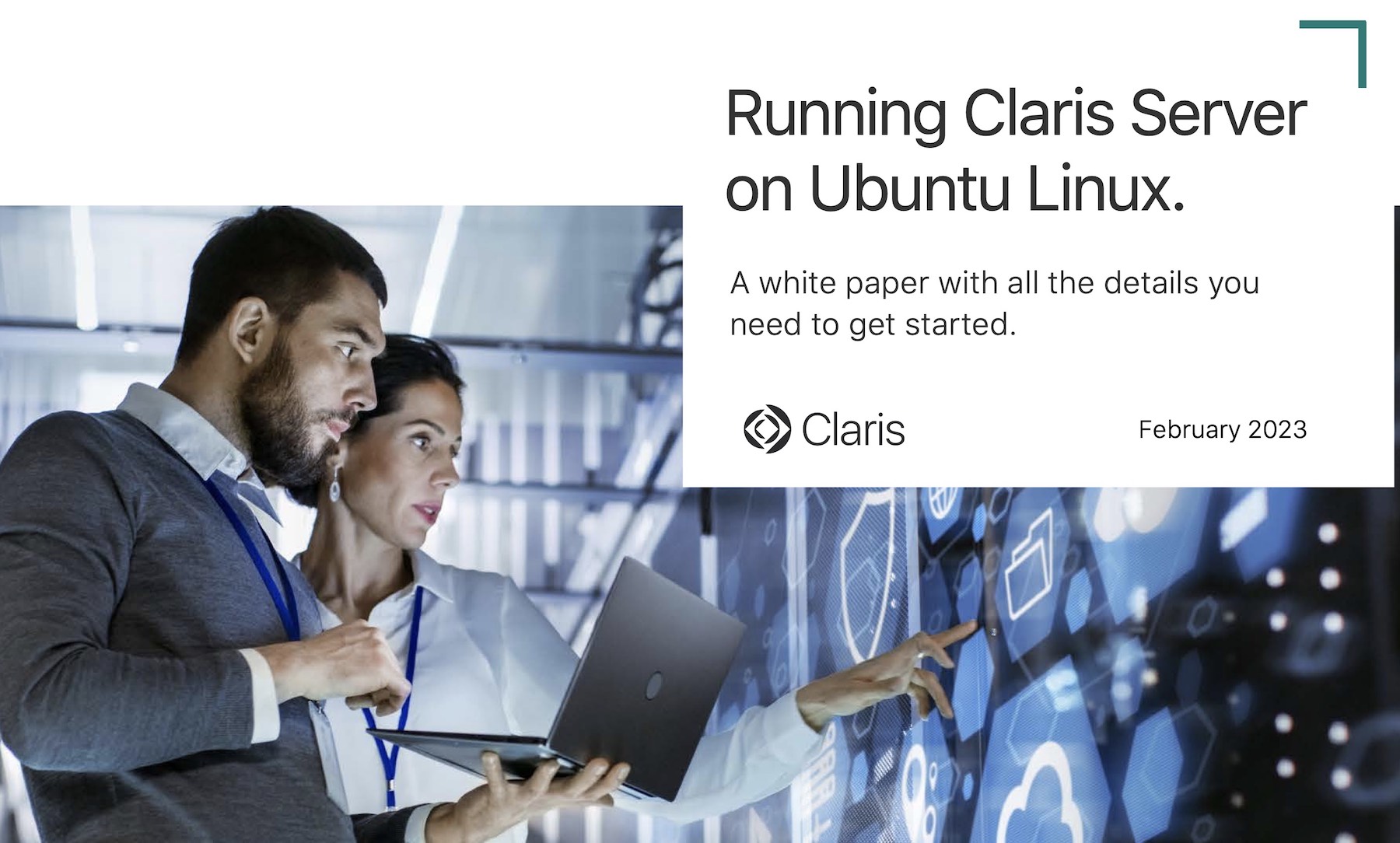 Running Claris Server on Ubuntu Linux, a white paper by Claris
Claris International has recently released a white paper:
Running Claris Server on Ubuntu Linux.
about Ubuntu and Claris Server, the server component of the new Claris platform.
It is a must read if you want to understand the benefits of the Linux Ubuntu plaftorm and why Claris is now focusing on this operating only for Claris Server.
"By focusing on a single operating system, we can make and deliver a solid server product more quickly and with fewer potential bugs."
This clearly states that FileMaker consultants and users who want to remain in control of their environment have to take a moment to understand what is coming and make wise decisions. Hosting custom apps on a mac OS or Windows local server is not an option that will last forever. No emergency, but things are changing.
Here is the table of contents
Introduction.
Why Linux?
Benefits of Linux.
Why Ubuntu?
What value does Claris bring me by focusing on Linux?
Linux installation options.
Ubuntu installation options.
Alternatives to hosting directly on Claris Server.
Installing Ubuntu Server.
Installing Ubuntu Desktop.
Installing Claris Server.
Next steps.
Introduction
In this white paper, we discuss why Linux is the supported operating system for Claris Server, why Ubuntu 20.04 Long Term Support (LTS) is the ideal Linux distribution for the public commercial entry of Claris Server, and how to get started with Ubuntu to install and use Claris Server.
Claris Server, part of the Claris platform, is on-premise server software for hosting Claris Pro (.claris) apps. These hosted apps are accessible to users via Claris Pro, Claris Go, web browsers, and APIs. Claris Pro apps can access data stored in Claris Studio, and Claris Pro can push data to Claris Studio for use in Claris Studio views.
fmcloud.fm already supports Claris Server
To this date, fmcloud.fm is the sole and only hosting service to fully support Claris Server. Even Claris Cloud, the equivalent of Claris' FileMaker Cloud is not ready yet.
Some renown developers such as Matt Navarre (Claris.training) have already been using their fmcloud.fm instance of Claris Server for a while.
Download the full PDF
You can download Claris' white paper PDF here